Are you a fruity, nutty, crunchy or chewy kind of cereal bar snacker? Well, you're in the right place! Traidcraft are filling their GEOBARS with the best Fairtrade ingredients from around the world, from wild Pakistani apricots and Ghanaian cocoa to Chilean blueberries and Indian cashews. In fact, there's a GEOBAR to suit all tastes, including gluten-free.
One of the vital ingredients of the GEOBAR range is Fairtrade honey. Based high in the remote mountains in north-west Guatemala, Fairtrade farmers and workers from the CIPAC co-operative are working hard to produce the sweetness for your snacks. 
Since joining Fairtrade, farmers like Rosa Moralez (pictured) have been able to invest in equipment such as beehives. In the last 15 years, the co-operative has grown from 22 to 132 beekeepers.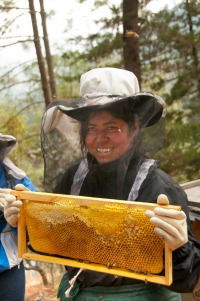 They have set up a honey collection centre, which means that farmers don't have to travel so far from home to deliver their product. The co-operative have also used their Fairtrade Premium to provide educational support for the local children and set up an emergency fund for unexpected expenses such as trips to the hospital. (In case you weren't sure, the Premium is the extra sum of money paid to farmers that they can invest in their business or community.)
Carlos Garcia, CIPAC's manager says:
'You have already made a substantial difference in our lives and we have hope for a better future for our children.'
The community would like to invest in better houses to replace the earth floors and walls, and create more jobs in the area so that the next generation won't need leave their community to work. That means selling more honey.
So what are you waiting for? To celebrate the GEOBAR relaunch, you can pick up a box now using the code 'GEOBAR' to get free delivery on orders of £20 and over from Traidcraft*, a leading supplier of your Fairtrade favourites.
You can also buy your GEOBARS at major supermarkets.
Bee happy!